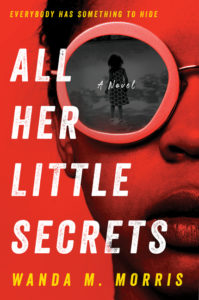 "All Her Little Secrets is a brilliantly nuanced but powerhouse exploration of race, the legal system, and the crushing pressure of keeping secrets. Morris brings a vibrant and welcome new voice to the thriller space." –Karin Slaughter, New York Times and international bestselling author
In this fast-paced thriller, Wanda M. Morris crafts a twisty mystery about a black lawyer who gets caught in a dangerous conspiracy after the sudden death of her boss . . . A debut perfect for fans of Attica Locke, Alyssa Cole, Harlan Coben, and Celeste Ng, with shades of How to Get Away with Murder and John Grisham's The Firm.
Everyone has something to hide…
Ellice Littlejohn seemingly has it all: an Ivy League law degree, a well-paying job as a corporate attorney in midtown Atlanta, great friends, and a "for fun" relationship with a rich, charming executive, who just happens to be her white boss. But everything changes one cold January morning when Ellice arrives in the executive suite and finds him dead with a gunshot to his head.
And then she walks away like nothing has happened. Why? Ellice has been keeping a cache of dark secrets, including a small-town past and a kid brother who's spent time on the other side of the law. She can't be thrust into the spotlight–again.
But instead of grieving this tragedy, people are gossiping, the police are getting suspicious, and Ellice, the company's lone black attorney, is promoted to replace her boss. While the opportunity is a dream-come-true, Ellice just can't shake the feeling that something is off.
When she uncovers shady dealings inside the company, Ellice is trapped in an impossible ethical and moral dilemma. Suddenly, Ellice's past and present lives collide as she launches into a pulse-pounding race to protect the brother she tried to save years ago and stop a conspiracy far more sinister than she could have ever imagined…

Order Here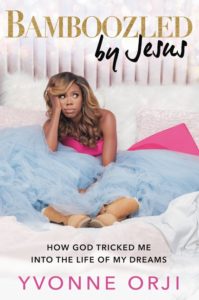 Thriving stand-up comic and actress Yvonne Orji–best known as Issa Rae's BFF on the HBO series, Insecure–shares the secrets to living the life of your dreams.
Yvonne Orji has never shied away from being unapologetically herself, and that includes being outspoken about her faith. Known for interpreting Biblical stories and metaphors to fit current times, her humorous and accessible approach to faith leaves even non-believers inspired and wanting more.
The way Yvonne sees it, God is a Sovereign Prankster, punking folks long before Ashton Kutcher made it cool. When she meditates on her own life–complete with unforeseen blessings and unanticipated roadblocks–she realizes it's one big testimony to how God tricked her into living out her wildest dreams. And she wants us to join in on getting bamboozled. This is not a Self-Help book–it's a Get Yours book!
In Bamboozled by Jesus, a frank and fresh advice book, Orji takes readers on a journey through twenty-five life lessons, gleaned from her own experiences and her favorite source of inspiration: the Bible. But this ain't your mama's Bible study. Yvonne infuses wit and heart in sharing pointers like why the way up is sometimes down, and how fear is synonymous to food poisoning. Her joyful, confident approach to God will inspire everyone to catapult themselves out of the mundane and into the magnificent.
With bold authenticity and practical relatability, Orji is exactly the kind of cultural leader we need in these chaotic times. And her journey through being Bamboozled by Jesus paints a powerful picture of what it means to say "yes" to a life you never could've imagined–if it wasn't your own.

Order Here
Utterly winning…brings to mind Sex and the City but feels more modern, more real. When I closed Nikki May's delicious, hilarious novel, I felt I was returning to joy. I knew it was time to call my friends…time to get into some good wahala of my own. — Amanda Eyre Ward, New York Times bestselling author of The Jetsetters and The Lifeguards
An incisive and exhilarating debut novel following three Anglo-Nigerian best friends and the lethally glamorous fourth woman who infiltrates their group–the most unforgettable girls since Carrie, Miranda, Charlotte, and Samantha.
Ronke wants happily ever after and 2.2. kids. She's dating Kayode and wants him to be "the one" (perfect, like her dead father). Her friends think he's just another in a long line of dodgy Nigerian boyfriends.
Boo has everything Ronke wants–a kind husband, gorgeous child. But she's frustrated, unfulfilled, plagued by guilt, and desperate to remember who she used to be.
Simi is the golden one with the perfect lifestyle. No one knows she's crippled by impostor syndrome and tempted to pack it all in each time her boss mentions her "urban vibe." Her husband thinks they're trying for a baby. She's not.
When the high-flying, charismatic Isobel explodes into the group, it seems at first she's bringing out the best in each woman. (She gets Simi an interview in Shanghai! Goes jogging with Boo!) But the more Isobel intervenes, the more chaos she sows, and Ronke, Simi, and Boo's close friendship begins to crack.
A sharp, modern take on friendship, ambition, culture, and betrayal, Wahala (trouble) is an unforgettable novel from a brilliant new voice.

Order Here